Client Testimonials
"... may I again take this opportunity to compliment your driver, as I stated he proved to be a great advertisment for your company and nothing was too much trouble for him, and his manner towards children and staff was exemplary. I would have no reservations about using your company in the future..." John O'Conner Project Co-ordinator

More

Coach Hire for Shopping in Edinburgh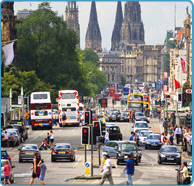 For those who like to engage in retail therapy, Edinburgh is one of the best retail centre's in the UK after London and is home to an extensive range of department stores, speciality retail establishments and haute couture and designer emporiums such as Harvey Nichols, Versace and Armani. There is an excellent provision of shopping malls within Edinburgh City Centre including the Waverley Centre renowned for it's fun atmosphere, the fairly recent Gyle shopping centre on the outskirts offering a selective and upmarket shopping experience.
Nearby the Royal Mile has some interesting and diverse tourist memorabila offering a distinctive continental café culture ambience and is the perfect way to relax with refreshments at the various trendy bars and cafes after a day of retail indulgence.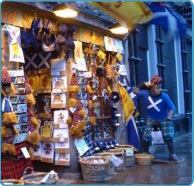 Once you've tired your feet of walking around the shops, Edinburgh has a vibrant pub and club scene with a multitude of bars and nightclubs dotted throughout the City Centre and Leith areas. At weekends, a large contingency of the city's pubs play host to live music and open-mike sessions ranging from Scottish and Irish Folk to Jazz and Alternative Rock.
The city showcases a plethora of festivals and cultural events throughout the year and the Edinburgh Fringe Festival is the crème de la crème, attracting over a hundred thousand people to this vibrant fringe festival that celebrates performing arts and culture.
Let Croft Coach Hire take away your transportation hassles, leaving you to enjoy all that Edinburgh has to offer, we are also pleased to discuss transportation to nearby towns and cities should your require, contact us today to arrange your special "shop 'till you drop" itinerary.
Croft Coaches may in some instances use the services of selected third party providers to undertake work on our behalf, these are accredited companies, fully insured and trained in the Croft Coaches ethos to ensure the same levels of service we demand.